A Very Special Place
Over the past several years I have enjoyed touring many small distilleries across the country. Some are well run, tidy operations with one or two offerings. Others are little more than store fronts buying and reselling some other company's product. Big Machine Distillery (BMD) doesn't fit into either category. This is a very well run, efficient operation turning out a wide range of their own products. Without a doubt, this gem tucked away in the rolling hills of central Tennessee just south of Nashville is the most impressive small distillery I have visited to date.
This visit, in September 2022, was my first post COVID foray back out into the wonderful world of small distilleries. I started with a Google search of small distilleries within an hour drive of my home in north Alabama. Checking out their web sites allowed me to narrow my search down to six distilleries that looked promising. I contacted each, asking permission for a deep dive visit to their operation with the goal of writing a post for my blog. Four did not respond, one was not interested, but Big Machine rolled out the welcome mat. That was my first clue this was going to be a very special place to visit.
Big Machine Distillery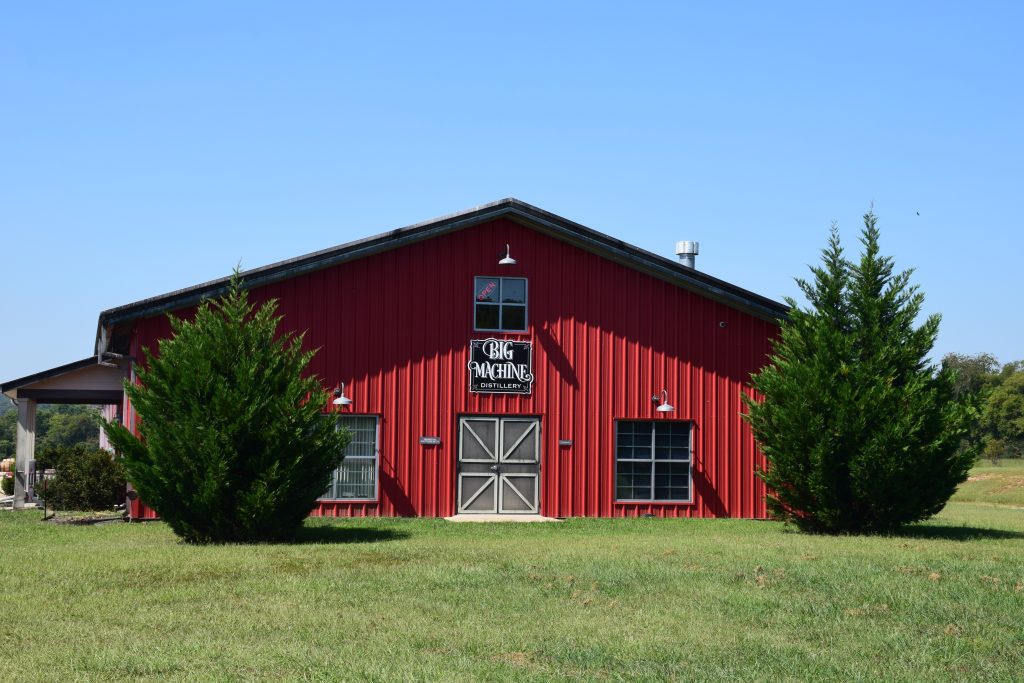 The company operates at three locations. The primary facility, where most, but not all of the distilling takes place, is in Lynnville Tennessee. This was the site of my visit.  Their other two locations are in the Nashville area. The downtown Nashville distillery/bar contains live music, a 250-gallon copper pot still, tours and tastings. It is located at 122 3rd Avenue South. Their Berry Hill Tavern located at 2824 Bransford Avenue in Nashville has a full menu, outdoor patio, games, TVs and bottomless Bloody Mary Brunch.
I arrived a few minutes early, but the Chief Distiller, and the original founder, Clay Cutler greeted me warmly. He then turned me over to two young ladies, Markeila and Halley, the primary distillers at Big Machine. I have to admit, that was a surprise, but Clay had a bigger, and very pleasant surprise for me. Turns out every employee at the Lynnville site except Clay is a woman. Perhaps this is the secret to such a well run distillery. BMD makes whiskey, vodka, gin, and specialty liquors such as a bottled Old Fashioned Cocktail. I focused on their whiskey offerings on this visit.
The Building Blocks of Fine Whiskey – Ingredients and Process
Clayton developed his Tennessee whiskey flavor profile over years of trial and error. He began with a small 5-gallon stovetop still, progressed to a 25 gallon still, before going big time with the current 500 gallon copper pot still. Experimentation and innovation are still deeply embedded in the DNA of this distillery. I observed and sampled some of the on-going experiments while there. Examples include bourbon made with red corn, straight sided barrels, and a futuristic looking vodka still Clayton helped to design and build.
Another defining characteristic of BMD is consistency throughout the operation to achieve uniformly high quality results. The distillers are careful to cook the mash at the same temperature each time, with the same mash bill, for the same period of time. They use the same yeast, added at the just the right time. Finally, just like the major distilleries, they keep reference bottles of the finished whiskey to ensure their flavor and aroma profiles do not wander.
The Water & Mash Bill
BMD uses water in two different waters to produce their whiskey. They use a municipal water source treated to remove chlorine and soften the water for mashing. They also test for proper Ph and adjust it as necessary in order to assure a consistent fermentation. However, for gauging, or adjusting the alcohol content of the whiskey, they use reverse osmosis water. They believe, and rightfully so, using reverse osmosis water ensures the water does not affect the taste or aroma of the finished product.
Clay's inspiration for his whiskey mash bill was his favorite whiskey, Makers Mark. After much experimentation, he settled on a mash bill of 74% white corn, 13% hard red winter wheat, and 13% malted barley. BMD sources the corn, which provides the whiskey's sweetness, from local farmers. It arrives already ground to Clay's specifications. They source the wheat from the northern plains, usually Montana or the Dakotas. It stays in the flavor background, allowing the sweet corn to shine through. It also arrives already ground. Sourced from suppliers located in north central US and Canada the two-row barley aids in sugar production. They grind it on site to a fine texture to maximize sugar production. The high sugar content of the mash maximizes alcohol production.
Cooking & Fermenting
The distillers cook the grains and water in a 1000-gallon mash tub. BMD uses a sweet mash  instead of the industry standard sour mash. This is consistent with most small distilleries in the US. The sour mash technique was developed and popularized in the 19th century as a quality control measure during the American distilling industry's expansion and consolidation. Contrary to popular opinion, using sweet or sour mash does not affect the taste or aromas of the finished whiskey.
Once the cooking is complete, the distillers add a commercial dry yeast to kick off the fermentation process. Clay considers the source and type of their yeast to be a trade secret. He selected this yeast after many years of trial and error during the development process of his signature whiskey, Clayton James.
Distilling & Filtering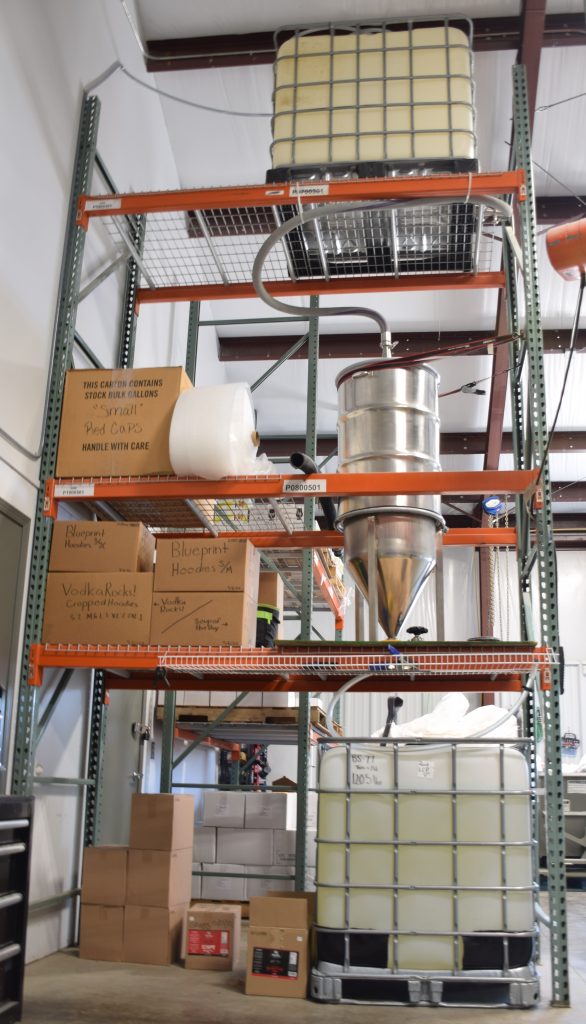 BMD distills its whiskey four times a week using a set up that includes a 1000 gallon cook tank, two fermenters, a 500-gallon Vendome pot still and a six-plate rectification column. Markeila and Halley monitor the new make as it comes off the still with a hydrometer. However, they make the cuts, heads, hearts, and tails, using taste and smell. Each 500-gallon batch yields about 50 gallons of hearts with a typical proof between 140 and 155 per batch.
BMD uses the Lincoln County Process (LCP) for its Tennessee whiskey, but not its bourbon. Their LCP is a simple gravity feed through a charcoal filter, and takes 2 to 3 days for a 275-gallon tote. Unlike others, their LCP is a closed system. The slight pressure this provides allows the new spirit to absorb some of the maple charcoal's smoky sweetness. Once a tote of fresh make has finished the LCP process, the ladies transfer the whiskey to one of the gauging tanks. They adjust the Alcohol by Volume (ABV) as necessary to 125p, then transfer it into new oak barrels.
Barreling, Aging & Bottling
Over the years, BMD has sourced barrels of various sizes, from various cooperages. Clay has even experimented with building his own straight side barrels. At this time, they are buying industry standard 53-gallon #4 char top fill barrels. Currently, BMD stores its barrels vertically four to a pallet, usually stacked four pallets high. The warehouse now has over 1200 barrels of various products at various ages. Prior to building the ageing warehouse, BMD used shipping containers placed alongside the distillery building to age their whiskey. The whiskey experienced extreme temperature changes while the barrels were stored in these containers. This may account for the strong woody flavor the barrels imparted on some of their finished whiskey. BMD bottles their standard Tennessee whiskey at 90P in a scotch style clear bottle. BMD bottles their bourbons at cask strength in especially designed bottles and stoppers somewhat in the style of Blanton's.
Tasting the Whiskey
First up was the distillery's flagship product, Clayton James Tennessee whiskey. I tasted the 90P and the cask strength single barrel. I liked both, but prefer the single barrel. The 90P is, in my opinion, a better mixer than sipper. The predominant flavor, to my palate, was wood. This whiskey was not unpleasant, but I prefer something more complex. Such a wood forward whiskey dominates and overpowers any other flavors that might be present in the whiskey. The cask strength single barrel on the other hand, was very complex and a nice sipper. At 115P I anticipated lots of heat, but it was rather tame. I really liked this whiskey, and prefer it to its Tennessee cousins from the nearby mega distillers.
Next up was the Borchetta Bourbon, both cask strength, 115.5P and 117.23P and both six years old. This bourbon uses the same mash bill as the Clayton James Tennessee whiskey, but does not undergo the Lincoln County Process. This whiskey is wonderful. Deep color, silky mouthfeel, delightful aromas and taste. BMD has a real winner with this whiskey. The Borchetta Bourbon inaugural release 2021 won double gold for taste and packaging.  The Borchetta family hand selects these barrels in honor of the return of the IndyCar to Nashville.  Borchetta Bourbon 2022 is their second release to celebrate the return of IndyCar to Nashville. They were the lead sponsor of both IndyCar races. This year's hand-selected barrels contained red corn, white corn or blue corn bourbon.  Every step of this Borchetta Bourbon bottling is meticulously done by hand in their Lynnville distillery.
The last whiskeys I tasted were two experimental bourbons. One was made with red corn and the other with blue corn. Both were single barrel and cask strength, 120.6P and 119.5P. Both were very good, and I look forward to seeing them bottled.
Big Machine Gin
Lastly, but certainly not the least I tasted their two gin offerings. I am not a white liquor fan, and when Markeila offered to let me taste the gin I demurred. However, she was insistent, and so, to be polite, I agreed. A good decision. I'm glad she kept after me to try it. One was their standard unaged gin. The other was lightly aged in a used whiskey barrel, somewhat akin to a reposado tequila. Both gins use the same mix of botanicals, and as Markeila kept pulling out the little bottles of ingredients to show me I was amazed. They use a wide variety, but citrus dominates and tames the juniper. Both gins were worthy of sipping straight, but would certainly make for killer gin and tonics.
Next Visit
I am already planning a return trip. I want to bring some friends, and I want to – surprise, surprise – look into their vodka. Vodka is a my absolute least favorite liquor, but the proprietary process BMD uses to produce theirs is too intriguing to pass up. Clay designed and built his own vodka still. It looks like no still I have ever seen. Included in the set up is a three-stage filter that uses shungite stone (yes, I had to look that up) and platinum and other precious metals.
If you are planning a trip to Nashville, or to the two mega distillers in Tennessee, don't miss making at stop at Big Machine Distillery in Lynnville. You will not be disappointed.