This is part two of a three part series of our recent 28 day roundtrip cruise from San Diego to the Hawaiian Islands then down to French Polynesia. We sailed on Holland America's MS Eurodam. Part One covered the first 13 days of the cruise, from San Diego to Fanning Island. Part Two covers 4 days, 2 days in Bora Bora and then a day each in Raiatea and Moorea. The third and final part will cover the last leg of the cruise from Tahiti back to San Diego.
Bora Bora, French Polynesia
Day 1 Excursion: Motu Islet Lagoon Cruise & Beach Break
The Motu Islet Lagoon Cruise & Beach Break is a three hour tour (not on the SS Minnow) rated as moderate activity. Shark Boy excursions operates this excursion on behalf of Holland America. We tendered to the boat harbor where a representative of the excursion company directed us to their boat. The boat was a large cameraman, about 15' by 40', powered by two large Mercury outboards. The boat had a wide ramp in the front with steps which made it fairly easy to get into and out of the water.
Leaving the harbor we traveled through Vaitape Bay, then past Raititi Point and the islets of Motu Toopua and Motu Tapu. Along the way we saw our ship at anchor in the bay, and the island's highest peak, Mount Otemanu. During the trip the excursion boat's owner spoke about the island, serenaded us with local songs, and even sounded some calls on a conch shell. The weather was perfect; clear, warm, with lots of sunshine.
Our first stop was at a shallow water snorkeling spot that stingrays and Blacktip Reef Sharks frequent. The water depth varied from about waist deep to chest deep. The water was crystal clear and just cool enough to be refreshing. This experience was a blast. Almost as soon as we entered the water, numerous sharks and rays were swimming all around us. Our guides hand fed the rays, and then, after moving us away a bit, threw chum into the water for the sharks. This was my first time swimming with sharks, but not once did I feel threatened or frightened.
Our second, and last stop was at a small islet motu for a snack of local fruit and some snorkeling. The water was crystal clear, but there wasn't much to see. We spent about 90 minutes there just relaxing and enjoying the scenery. We then returned to the boat harbor, and tendered back to the ship.
Day 2 Excursion: ¾ Day Lagoon Tour with Polynesian Feast
Long ago we learned that belonging to the online Cruise Critic community made our cruising more enjoyable and rewarding. As we prepared for this cruise, we learned that one of our fellow Cruise Critic passengers was organizing a private excursion with a company called Maohi Nui. After some due diligence we decided to take a chance on this non Holland America excursion. What a great decision! We enjoyed a five hour excursion, with three snorkeling stops, and a full lunch with complimentary drinks, all for less money than a similar Holland excursion. If you want to snorkel in Bora Bora, do not miss this excursion.
Our first stop was a deep water location that gave us plenty of opportunities to swim with the Black Tip Reef sharks. Getting into and out of the water was more challenging than the day before with Shark Boy. Instead of Shark Boy's large boat with stairway, Maohi Nui uses small, narrow 12 person boats. Instead of stairs we had a ladder to get into and out of the water. No problems for me, but one man dropped his camera as he was clambering down the ladder. It quickly disappeared straight down 30 feet or so in the crystal clear water to the bottom. Our guides began free diving to look for it, and finally recovered it in about 15 minutes.
Our second dive stop was the same shallow water location we were at the day before with Shark Boy. Even though it was the same, it was still a blast, and I really enjoyed the closeness of the sharks and rays. Our third and last dive stop was another deep water location. No sharks or rays this time, just a reef with lots of small fish. Lots of fish. Clouds of fish. Our guides swam around feeding the fish which attracted more and more of them. One of the guides swam up to me and fed the fish inches from my face. What a rush.
With the diving complete, it was time to go to the motu for lunch. Our hosts prepared a Polynesian feast featuring roasted suckling pig, two types of grilled fish, and a wide variety of fruits and vegetables. They also provided soft drinks, beer, and wine. I opted for the local Hinano Beer, a nice lager style. Following lunch, our host Patrick, put on a demonstration of fire baton twirling. Then it was back into the boats for the return trip to the harbor. Our excursion took us all around the island allowing us to take photographs of Mount Otemanu from every angle.
Raiatea, French Polynesia
A Taste of Vanilla & Taha'a Motu Picnic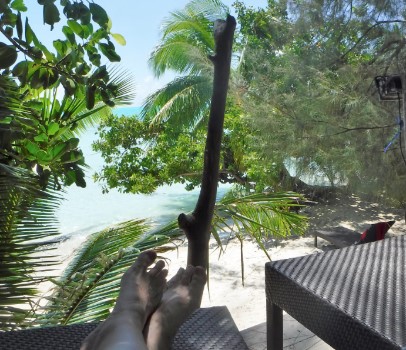 We met our guide, Rose, dockside for this 3 ½ hour excursion. Our boat was a large and comfortable catamaran. Leaving Raiatea behind, we steadily cruised through beautiful waters to the nearby island of Taha'a. Once ashore we walked a short distance to Vallee de la Vanille. This is one of the plantations which provide much of French Polynesia's world famous vanilla products. Workers at the plantation described and showed us how vanilla is cultivated and prepared in French Polynesia. We were amazed to learn it takes up to three years from when they are planted to begin harvesting beans from the vines.
After our vanilla visit, we re-boarded the boat for a quick trip to a nearby motu for another beach picnic. Once ashore we quickly noticed that all of the beach chairs under shade were already taken. Then I saw a small set of stairs built into a large tree leading up to a small platform with three lounge chairs. Throwing caution aside we claimed the platform as ours. We had a fun time relaxing in the shade high atop everyone else. We also snorkeled here and enjoyed yet another lunch on the beach.
Moorea, French Polynesia
Motu Beach Picnic & Ray Feeding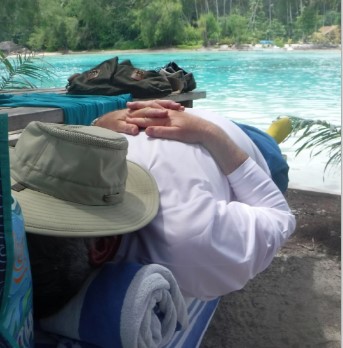 Another snorkeling trip, this time with the expectation of being able to feed the stingrays. We previously fed tame stingrays in the Bahamas on another Holland America cruise. I was really looking forward to feeding the wild stingrays in French Polynesia. Alas, that was not to be. Our guide did all the feeding. Trying to get up close to see and take photos was a challenge because of boat loads of people trying to do the same thing at the same time. Nevertheless, we did get a chance to get close to the guide who then allowed us to kiss a ray. Quite a slimy experience. We also saw a few of the Black Tip Reef Sharks, but not much else at this location.
Then it was off to another motu for another beach lunch. After lunch, instead of snorkeling, I decided to take an Army nap on the bench of our table. My wife took lots of photos as I slept … of me.
Our introduction to French Polynesia was fantastic, especially the snorkeling in Bora Bora. Part three of this story, and the last part, will cover our time in Tahiti, Fakarava, and Nuku Hiva, and then back to San Diego.