The first week of our Alaskan cruise was a blast, but unknown to us, the best was yet to come. Week 2 was filled with spectacular scenery, an incredible diversity of wildlife, and whiskey. Lots of whiskey. All in all, a wonderful conclusion to our Alaskan cruise.
The Cruzin'
Homer Alaska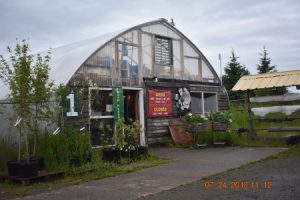 This was our second visit to Homer, and for this visit we decided to do something very different from our usual wildlife watching or museum viewing. One of my wife's favorite TV shows is Alaska the Wild Frontier, a reality series about homesteading in Alaska. We couldn't visit the homesteads featured in the series, but Holland America did offer an excursion to another local homestead. What we learned on that homestead was very surprising, at least to me. First of all, it was very small, just 5 acres. Secondly, the family didn't earn their living from just one activity, such as farming or ranching. Instead, they ran a number of different money making enterprises.
They raised and sold vegetables to local restaurants, farmers' markets, and, from their own storefront, to the general public. That storefront also sold ornamental plants and gardening supplies. They also grow flowers, most of which are sold to brokers who ship them to Europe. On top of all these enterprises, their most important and largest money maker was the manufacturing of organic Alaskan gardening, potting, and planting soil. Our guide was the owner of the homestead, and he was assisted by two of his very young granddaughters.  My wife and I got a kick out of the obvious joy these two young girls displayed helping their grandfather show us their home. This wasn't the typical Alaskan tour, however, I highly recommend it.
Kodiak Alaska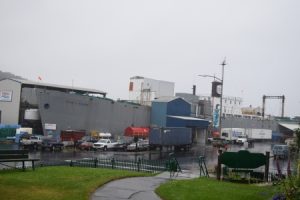 The weather finally caught up with us. It rained all day, mostly a hard, driving, and cold rain. We toured the small town, stopping at three small museums. The most interesting thing in town to me was the World War II Liberty ship that grounded in the harbor and was turned into a fish processing plant. The first stop was the Baranov Museum in the Erskine House, erected as a fur warehouse in the early days of Kodiak's settlement by Russians and Americans.
Our next stop was the Alaskan Native Alutiig Center. Like the Baranov Museum, this is a very small facility, but it is packed with interesting displays and artifacts.  Out last stop was to a small military museum built inside a World War II era coastal battery. The pride the aging veterans have for this museum was very evident and warmed the heart of this aging veteran.
Hubbard Glacier
As our cruise ship slowly approached Hubbard Glacier the weather began to clear, though it would stay mostly overcast throughout the day. Nevertheless, visibility was very good, allowing us to take in the entire beautiful vista the glacier provides. Hubbard Glacier is nicknamed the "Galloping Glacier" because it moves quickly, often as much as 80 feet in a day. Unlike most Alaskan glaciers, it advances in warm weather and retreats in cool weather. This is because the local weather causes warm moist air to rise and drop snow onto the ice fields that feed this glacier. The glacier was calving, or dropping large ice chucks, all during our visit, making for exciting photographic opportunities.
As much as we have enjoyed viewing glaciers in Glacier Bay National Park, Tracy Arm, or Prince William Sound, Hubbard Glacier is our favorite. It's size is overwhelming, its almost continuous calving is exciting, and its setting glorious.
Sitka Alaska
We spent Day 12 in Sitka, one of Alaska's oldest ports and one of our favorites. This was absolutely a marvelous day, filled with otters, whales, eagles and bears. The otters and whales were in the wild, the eagles and bears were at rescue centers.  The first part of our excursion was a wildlife cruise, once again aboard a comfortable Allen Marine Tours tour boat. As we cruised around the area we were treated to spectacular views of immense beauty, a wrecked tugboat, and a huge raft of otters relaxing on the surface. We also saw a humpback whale slowly feeding along the shoreline while a deer grazed nearby in the tall grass.
Back onshore, we transferred to a bus for a short ride to the Alaska Raptor Center. This was our second visit to the center, and, just like the first time, we could have spent more time here viewing and learning about the birds. Another short bus ride brought us to the Fortress of the Bear, a rescue and rehabilitation center for Alaskan bears. Built on the site of an abandoned paper mill, the center's mission is to rescue orphaned cubs, bring them back to health and provide a long life full of enrichment. Unfortunately, it is Alaskan state policy to kill orphaned bear cubs. Since 2007 this center has recused many bears and has placed several with zoos around the country. The seven bears on site, housed in enclosures designed to replicate nature as much as possible, were fun to watch and photograph. We could have stayed and watched for hours, but, just like the raptor center, had to leave all too soon.
Victoria Canada
We spent our last full day of this cruise in one of the loveliest Canadian cities we have ever visited. Although we had already seen numerous whales on this cruise, we choose to take yet another whale watching excursion. We made this decision with quite a bit of trepidation. Many of the reviews of this excursion cited the lack of whales. On the other hand, many reviews were positive. So, we decided to take a chance hoping we would see Orcas and were not disappointed. After a long high speed boat ride we came to the home area the Orca J pod. This is the pod which recently had the mother whale that carried its dead baby around for nearly two weeks. We did not see that whale, but we did see most of the other members of J pod.
The lesson we took away from this tour was the same one we learned in Juneau. We were there to see wild animals in their natural habitat, and they, not us, decide what we get to see. Overall, the tour was a fun and worthwhile experience that we would happily repeat in the future.
Seattle Washington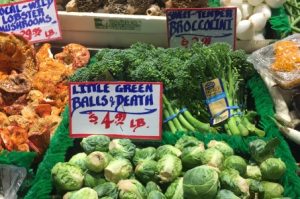 Since our flight home from Seattle wasn't until late in the evening we took a bus and unguided walking tour of Seattle. Our first stop was the recently updated and refurbished Space Needle. The work was still underway in some areas, but the improvements, especially the glass viewing walls made for an incredible visit. Then we were off the Pike's Market. Half the fun of this market is the people watching. Even on a Monday the place was crowded with locals and tourists. We browsed through the market, looking, but not buying, having a grand time. We stopped for lunch at an Italian deli, before heading back to the bus. Even taking the tour we arrived at the airport six hours before our flight. Fortunately, we were able to rest and relax at the USO in the airport. The staff was friendly and helpful, and the free food and drinks appreciated.
The Boozing
We continued to enjoy our wine package on this second week of the cruise, but I took advantage of the Zaandam's bars to sample several whiskeys I have never had before. This sampling included a bar tender led tasting of four scotch whiskeys, none of which I had ever sampled before.
Highland Park Einar: It's okay, but I'm not a fan. Just too light tasting for me.
Glenlivet12 Year Old: Really a disappointment. Not something I would purchase for myself.
Glenmorangie Original: Reminded me of an Irish Whiskey, very light without a lot of nose or taste. A disappointment.
Laphroaig10 Year Old: As the bar tender was setting up our glasses a passerby said "Yuck, why are you even trying that nasty stuff". So of course, I liked  it. Almost like sipping a campfire. I have already added this to my home bar collection.