This was my third trip to visit Kentucky, and was significantly more fun than my first two. My first, in the summer of 1974 for six weeks, was to Fort Knox. I was 17 and at the mercy of two Army Drill Sergeants. The second, in the summer of 1992 and also to Fort Knox for six weeks, was much better since I was older and a Major, but still not a fun time. They say the third time is the charm, and, for me, this trip on the Bourbon Trail certainly was.
My wife and I have traveled extensively throughout the United States, and quite a bit around the world. Kentucky is, without a doubt, one of the most beautiful places we have been, filled with friendly and welcoming people. To say we had a great time is an understatement. While there we toured several horse and bourbon venues. The horses for my wife, the bourbon for me. We both enjoyed everywhere we toured. We are already planning a return visit in the not too distant future.
Horsing Around
Our base of operations for all but two nights was the Kentucky Horse Park Campground. This is a wonderful, well run facility, with 260 RV campsites. However, these sites only have power and water hook-ups. None have a sewer hook-up, so plan accordingly. They also offer RV sites with no hook-ups and primitive sites for tent campers. Campground amenities include a store, pool, bathhouses, and laundry. Everything was neat and clean, and even over the Memorial Day weekend, quiet at night.
Kentucky Horse Park
We spent two days touring the Kentucky Horse Park (KHP), and could have spent more time there. In short, the KHP is Disneyland for horse people. The Parade of Breeds, offered twice a day, showcases various breeds from around the world. We were introduced to many breeds we had never seen before, including the Marwari. At the Hall of Champions show, also offered twice a day, we got up close and personal with retired champions such as Thoroughbreds Funny Cide, and Go for Gin, American Quarter Horse Be A Bono, Standardbred Trotter Mr. Muscleman, and Standardbred Pacers Staying Together, Won The West. We learned about draft horses and their harness at the Big Barn, and saw how Mounted Police train and operate at the Mounted Police Demonstration. We also toured the Saddlebred Museum and stopped at the numerous Memorials and Statues throughout the Park such as Man o' War. Saturday night we watched Kentucky Spring Classic, FEI Open Jumper show, which brought in top tier competitors from around the world. The highlight however, was the International Museum of the Horse. We spent hours inside this well done museum, and could have spent even more time there. Going back is definitely on our to-do list.
Churchill Downs and Keeneland Race Tracks
No trip to Kentucky is complete without visiting at least one of these two magnificent thoroughbred racing venues, so we did both. We toured Churchill Downs visiting the paddock area and going trackside, and toured the Kentucky Derby Museum. Both are well worth the money. Keeneland wasn't open for racing during our visits, but we were able to drive around the property and snap a few photos of this beautiful facility.
On the Bourbon Trail
Seeing and learning more about horses was wonderful, but the reason the Booze Cruzer was in Kentucky was … BOURBON. First stop, Moonshine University, yes gentle reader, there really is a Moonshine University.
Moonshine University – Executive Bourbon Steward Course
The the Executive Bourbon Steward Course is offered under the auspices of the Stave and Thief Society and in partnership with the Kentucky Distillers Association. This is an all-day course consisting of classroom instruction and hands-on opportunities in the university's working distillery. As soon as I returned to our hotel room after class was over my wife asked me if I had a good time – yes I did – and if the day was worth the $500 tuition – yes it was. Yes, it was expensive, but I learned so much, and I'm sure the other 22 students did as well. The day's coursework covered a deep dive into the Stave and Thief Society's bourbon body of knowledge, the basics of distilling whiskey, and sensory training. I'll provide many more details in future blog post.
Woodford Reserve Distillery – Corn to Cork Tour
I took the $30 Corn to Cork tour at Woodford Reserve. This was a very informative two hour tour that culminated in a tasting session back at the Visitor Center. This was without a doubt the most information filled tour of all the tours I took on this trip. The three gorgeous copper pot stills in the old stone still house are an impressive sight. Our guide, Stacy, was extremely knowledgeable and able to answer almost any technical or production question I posed. The only question she left unanswered concerned the production split between the Woodford Reserve Versailles facility and the Brown-Forman distillery in Louisville. In case you were not already aware, most of the distillate that ends up in a Woodford Reserve bottle comes from the Louisville facility. The highlight of the tour for me was the tasting since I had never sampled any Woodford Reserve product. I wasn't overly impressed by the standard Woodford Reserve Bourbon, or their Rye whiskey. However, the Double Oaked Woodford Reserve Bourbon blew my socks off. Even my wife, who normally shuns whiskey, liked the Double Oaked. I'll provide many more details on this tour in future blog post.
Maker's Mark – Behind the Mark Tour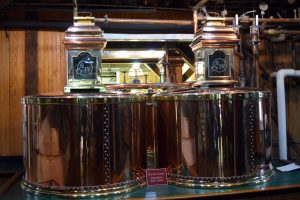 At Maker's Mark I opted for the $40 Beyond the Mark tour. I expected this would be a deep dive into the technical and production details of Marker's Mark along the lines of the Woodford Reserve tour. Alas, it was little more than a standard consumer tour that lacked technical details and was more about marketing talking points. The only bonus was two commemorative Maker's Mark wax dipped rock glasses. The highlight of the trip was tasting fresh off the still new make aka white dog from a dipper that the tour guide passed around. I'll be providing more details on this tour in future blog post.
Jim Beam – Behind the Beam Tour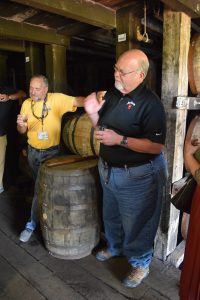 This tour is only offered a few time each year, and at $199 per person is downright expensive. However, Fred Noe the Master Distiller himself and his son and heir apparent Freddie Noe, spent about 2 1/2 hours with our group. The tour of the distillery, conducted by Jessica, the Trade and Hospitality Manager, was informative and extremely well done. Fred and Freddie Noe joined the group at the rickhouse. Both were down to earth, plain spoken, willing to share personal and business stories, and just plain fun to be around. Each guest on the tour came away with a bottle of bourbon signed by Fred and Freddie, and some of us purchased a second bottle which was also signed.
I learned a lot about the distillery, their product line, and their family. Really a great visit and well worth the money. I'll be providing more details on this tour in future blog post.
Wild Turkey – Standard Consumer Tour
I hadn't planned on touring Wild Turkey, but it was on our way home from touring historic Fort Boonesborough State Park, and we still had time to catch the last tour of the day. This tour is free for military, a nice touch that I really appreciated. The tour is your usual basic consumer tour, i.e., herd the tourists along from point to point, imparting marketing gems at each stop, with samples of three products at the end. No complaints, this tour achieves what it ought to do. The surprise bonus was the opportunity to meet Jimmy Russell, the Master Distiller, in the visitor center where he was signing bottles. Jimmy was accommodating to everyone who came to him with a bottle, signing and posing for photos. He seemed the genuinely enjoy interacting with everyone.
Buffalo Trace Distillery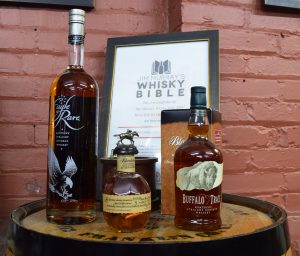 Like Wild Turkey, this was a last minute addition to our itinerary, and we took the basic consumer tour. Buffalo Trace offers all of its tours free of charge, which combined with touring on a Saturday meant the place was packed with tourists eager to see the distillery and taste their products. We waited almost an hour after getting our tickets before our tour started. Our tasting was limited to two of the four products they offered, and was a cattle call at the bar affair. Not my cup of tea, or glass of bourbon, but the tour achieves what it ought to do, and the price cannot be beat.