Black Patch Distilling Company
I was privileged to pay a visit to Black Patch Distilling Company in Madison Alabama on January 9th 2019. Black Patch, owned by Clayton Hinchman and operated by his wife Leslie and stepfather Gary Cooper, opened in June 2018. The Black Patch label proudly proclaims that the distillery is owned and operated by a combat veteran. That vet is Clayton. Clayton is a graduate of the US Military Academy at West Point and an honor graduate of the Army's prestigious Ranger School.
He was grievously wounded in Iraq while on a combat patrol. In Iraq, Clayton served with Task Force 17, also known as Task Force Ghost. The task force's missions included finding and eliminating high value enemy personnel. Due to the secretive nature of their work their did not use standard issue Army patches . Instead, they wore only two patches, an American flag and a black patch. It was this experience which provides the inspiration for the name for the distillery.
Gary Cooper Master Distiller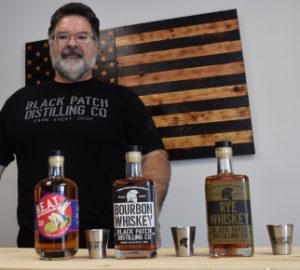 The distillery's Master Distiller is Gary Cooper, Clayton's stepfather. Gary, a polymer chemist with lifelong employment in the petrol-chemical industry, had for many years longed to leave that work and instead open a distillery. Clayton and his wife were able to bring that dream to fruition. Like most distilleries, Black Patch produces and sells bourbon and rye whiskeys. However, for this visit I wanted to focus on the two products that are unique to Black Patch, Órale and H.E.A.T..
Órale, currently available in Platinum, is an unaged spirit made from 100% blue agave syrup. Blue agave is challenging to work with and produces low yields of alcohol. However, Gary is quick to say that only 100% blue agave can produce the easy sipping sweet and favorable spirit that he wanted. H.E.A.T., a very different drink, is a blend of Canadian whiskey and handmade cinnamon candy. Cinnamon whiskeys are very popular today, but almost all use chemicals to work their magic. To make H.E.A.T. Gary opted for the labor intensive homemade candy recipe to avoid the plastic aftertaste that plague the other competing products.  These characteristics bring life to the distillery's motto "our passion is on the inside of the bottle, not on the label".
Since its founding last summer the distillery has become a popular gathering place for the locals. This popularity drove the owners to invest in a bar and a place for a food truck to park inside the building. Now, fans of Black Patch can spend some time sharing food and fun in addition to the full range of Black Patch products.
Black Patch Órale Platinum Ingredients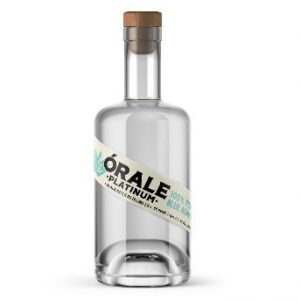 Gary describes Órale as an enjoyable sipping liquor, but one that also stands up well when used with a mixer. The main ingredient used to achieve this balance is 100% Blue Agave syrup sourced from Mexico, New Mexico, and Arizona. This is the same agave that is used in Mexico to produce that country's finest Tequilas. Gary adds water sourced from Madison City municipal water department. He treats the water with a carbon filter and water softener to remove organic compounds, as well as chlorine, iron, and calcium. All of which can give the final product a funky color or taste.
To convert the sugar into alcohol, Gary uses a dry yeast especially formulated for agave syrup and yeast nutrients. This is a mixture of protein, free-form amino acids, minerals, enzymes, vitamins, and fibers that increases the yeast's ability to convert sugar into alcohol. To boost alcohol production even further Gary adds alpha-amylase and beta-amylase to the mixture to break down complex carbohydrates and simple carbohydrates in the blue agave syrup into simple sugars to aid in the production of alcohol.
Since Órale Platinum is a bottled unaged straight off the still no barrels are used in its production. The Reposado version is aged for at least 2 months months in used bourbon or rye whiskey barrels.
Making Órale Platinum
Gary mixes 25 gallons of blue agave syrup and 240 gallons of water in his mash tank to make a batch of Órale wash. Once mixed, he heats the mixture to about 160o. He then adds the alpha-amylase and allows the mixture cook for about an hour. Next, he cools the mixture to about 140o and adds the beta-amylase into the mixture. He then allows the mixture to sit overnight in the mash tank. This ensures the complex sugars have been broken down into the simple sugars the yeast will need to produce alcohol.
The next morning he uses his transfer pump to transfer the mixture into his fermentation tank and cools the mixture to about 80o. Now he adds the yeast and yeast nutrients which will use the sugars in the mixture to produce alcohol.
Now the waiting begins. The yeast need anywhere from seven to ten days to fully convert the sugars in the mixture into alcohol. At this point fermentation activity is complete and the mixture now has an Alcohol by Volume (ABV) somewhere between 3.5% and 4.0%. Once again using his transfer pump, Gary transfers the fermented mixture into his still for its first distillation. This first distillation is called the stripping run and bypasses the column portion of the still. The spirit at this point is about 40 proof or 20% ABV. This stripping run converts the original 265 gallon batch of water and agave syrup into about 55 gallons of 40 proof alcohol.
Gary collects 4 batches together then runs the second distillation, called the spirts run. This run uses the still and the 4 plate column to produce the raw Órale distillate at about 135 proof. Gary then adds filtered water to bring the proof down to 80 for bottling. Gary reserves some of the batch which he places into used bourbon barrels for a minimum of 2 months to produce his Reposado Órale.
H.E.A.T Cinnamon Flavored Whiskey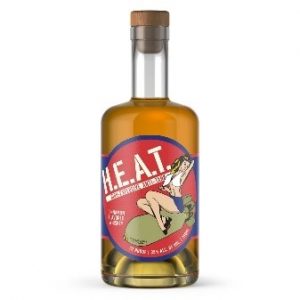 Sticking with the military theme of the Black Patch Distilling Company, the distillery team named this cinnamon flavored whiskey after the military's high explosive anti-tank weaponry. Taking the military theme one step further, the label includes a graphic of a lovely lady riding a bomb that is reminiscent of the nose art that adored many World War II bombers.
H.E.A.T. starts with a base of four year old Canadian Whiskey with a mash bill of 75% corn, 20% rye, and 5% malted barley. This corn heavy whiskey provides a solid sweet base for the final product. Black Patch makes their own cinnamon candy on site to flavor the whiskey. Doing this makes a big difference in the whiskey and truly differentiates it from competitors such as Sazerac's Fireball or Jim Beam's Kentucky Fire.
These mainstream cinnamon whiskeys use propylene glycol to keep the oils used in making the whiskey in solution. This keeps the whiskey from looking look cloudy. The US Food and Drug Administration does consider propylene glycol safe for human consumption. However, it does add somewhat of a synthetic plastic taste to the whiskey.
H.E.A.T. is Black Patch's biggest seller, but is not yet available in any Alabama ABC stores. You'll need to go to the distillery or find one of the bars or non-ABC liquor stores in Alabama to buy your shot or bottle. H.E.A.T. is a great sipping whiskey for anyone what doesn't ordinarily sip whiskey. I love sipping H.E.A.T. while I am reading a good book.