My wife and I had the privilege of taking a 2 week cruise along the coast of Alaska aboard Holland America's MS Zaandam in July 2018. This was our fourth Alaskan cruise, and we're already planning on our next trip to this incredible part of the world. Seems like no matter how much we see and do, there's still plenty more to see and do. As always, Holland America's crew took care of us and we were very comfortable and happy on board.
The Cruzin'
Our port of departure was Seattle, WA. We arrived the day before to ensure we didn't miss the boat due to flight delays. Our flight arrived late at night so we stayed at a hotel near the airport. We slept in a bit the next morning, then used the hotel shuttle to return to the airport where we linked up with Holland America's transfer bus to the port. Check in with Holland America was quick and efficient as usual and we were soon on board the Zaandam. This was our first cruise on this ship, so we spent the first hour of so learning the layout, and finding our cabin. Then, time for the first of many delicious and way too filling meals on board.
Shortly after leaving the dock and heading our to sea we made our way to the main dining room where we met the two other couples and one single traveler with whom we'd be sharing most of our evening meals with for the next two weeks. We are always nervous about meeting our assigned table mates for the first time. Will we be comfortable with them, or, as has happened in the past, will we need to find other dining options in order to avoid the table. Fortunately, as is usually the case, everyone came together extremely well, as if we were old friends meeting up again after a long hiatus. We spent Day 1 of the cruise at sea on our way from Seattle to Ketchikan. This gave us an opportunity to rest and recuperate from pour long flight to Seattle from the east coast.
Ketchikan Alaska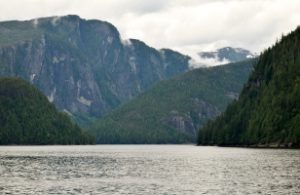 First port of call on our recent Alaskan cruise was Ketchikan, Alaska. This was our fourth visit to Ketchikan. Nevertheless, it was easy to find a great excursion we had not yet experienced; a four and a half hour boat trip to Misty Fjords National Monument. We were blessed with perfect weather, clear and cool, and we saw lots of beautiful scenery. The sights we enjoyed on this trip included an active bald eagle's nest, a Tlingit pictograph, and New Eddystone Rock; an immense volcanic spire rising from the emerald sea. We also saw numerous float planes overhead carrying other tourists who chose to take a short aerial tour of Misty Fjords. While I am sure they had a memorial experience we were happy with our choice. I believe we saw more scenery and animals on our trip, and had the opportunity to take many more photographs.
Our tour boat, named the Wilderness Explorer, is operated by Allen Marine Tours. Allen Marine Tours is a family-owned business, and one of the oldest tour companies in Alaska. We would enjoy their cruise tours over and over again on this cruise at different ports of call.  The Wilderness Explorer, like all of Allen's boats, was custom built in their shipyard in Sitka. Since we would be cruising near various wild animals in the water, Allen chose to power their boats with water jets instead of propellers. Attention to details, like the water jets, were evident throughout the boat and ensured a safe and comfortable cruise tours. The crew was well trained and dealt with the passengers in a courteous manner that helped make for a wonderful tour experience.
Tracy Arm Alaska
After leaving Ketchikan, we cruised Tracy Arm to view Sawyer Glacier. As we sailed through the night on our way to the entrance of Tracy Arm the fog closed in reducing visibility to about 50 yards. The ship's fog horn serenaded us every two minutes all night long. We went to bed that night fearing we would not be able to see anything but fog the next day. However, as we approached Tracy Arm, the fog lifted and we had perfect weather for the rest of the day. This was our second trip into Tracy Arm, but we were wowed just as much as we were the first time.
Sawyer Glacier carved Tracy Arm, a narrow fjord, out of the surrounding rock by the over a period of hundreds of thousands of years. Tracy Arm is about 30 miles long and culminates at the face of South Sawyer Glacier. Towering mountains and cliffs as high as 3000 feet flank the channel. The depth of the fjord is about 600 feet in many places. The Captain took advantage of the clear weather to slowly navigate the ship very close to face of the glacier, much closer than we were able to get on our first visit. Other, smaller tour boats were able to get even closer. We spent about an hour watching the glacier and did see a few piecing calving off the glacier.
Juneau Alaska
This was our fourth visit to Juneau, and we spent a long day in port. So long in fact, that we had time to take two tours. We took a helicopter up to the top of Mendenhall Glacier for a dog sledding excursion in the morning. We went on a whale watching tour in the evening. The dog sledding trip was a blast, and was the highlight of the entire cruise. The helicopter trip took about 20 minutes each way and the scenery was spectacular. Soon after we arrived on the glacier, a ten dog team with guide whisked we away on a circular tour around the dog camp. The dogs were excited and love running and pulling the sled.  We had a great time and highly recommend this excursion. Absolutely unforgettable.
In the evening we boarded an Allen Marine Tour boat for whale watching. Unfortunately, the whales did not cooperate, so we didn't see much. Nevertheless, it was an enjoyable outing, and once again, the crew was friendly and helpful. Although some folks groused about the lack of significant whale activity, we did see a few, it's important to remember that these are wild animals in their natural element. We weren't at Sea World.
Icy Strait Point Alaska
Our day in Icy Strait Point was very short. We arrived at 7am and departed at 2pm. Although this was our first visit to this port of call, it has claimed a spot on the top of our list of places we'll return to sometime in the future. We decided to split up at this port. My wife took a cooking class, and I took a combination sea and land tour. My wife enjoyed her class, especially learning about how the locals not only survive Alaskan winters, but thrive. I had an unbelievable tour, witnessing humpback whales feeding using the bubble net technique and a breach, and getting within 30 feet of a Coastal Brown Bear sow with two cubs. One thing that makes this such a wonderful port is that it's docking facility and on shore activities are small. So small, that it cannot accept large ships of more than one ship at a time. This fact, combined with the friendly people and and diversity of available excursions makes this a do not miss Alaskan port of call.
Anchorage Alaska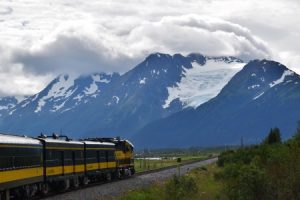 We spent Day 6 of our cruise at sea sailing around the Kenai Peninsula on our way to Anchorage. Once we arrived in Anchorage on Day 7 we took the Spencer Glacier – Grandview Train excursion. It was a long ten hour day, but well worth the time and money. We left Anchorage on board the train at 9:45am. We were assigned to Car B and Seats 15 C & D. Unfortunately, this put us at the front edge of a picture window that spanned two rows. This restricted our view and often forced us to move about the cabin or out to the tiny platform between cars to take good photos.
This is a regularly scheduled Alaskan Railroad itinerary, not a special tourist excursion. As such, it makes stops to allow passengers to get on and off at several stops along the way. Some tourists don't like the time wasted at these stops, but, for us, it's all part of the experience. Our journey took us along the shore of the Turnagain Arm, with stops at Girdwood and Portage before traveling through the tunnel to Whittier. After a short stay in Whitter, the train retraced its route to Portage, then went to the Spencer Glacier Whistle Stop and beyond through the Placer River Valley to the Grandview stop. The scenery was fantastic and we caught quick glimpses of wildlife as we rolled along to include a moose and a black bear.
The Boozing
We purchased the 8 bottle Cellar Number 2 Wine package which lasted us for the entire two week cruise. Our favorites from the package were the Chateau Ste. Michelle Riesling and the Meiomi Pinot Noir. I purchased beer from time to time to accompany some meals, usually when we chose hamburgers for lunch. My go-to beer was the Alaskan Amber from the Alaskan Brewing Company. At one time or another while cruising Alaska I have tried all of the beers and ales from Alaskan Brewing Company, so I did not feel compelled to try anything besides the amber.
While we were in Juneau I stopped in at the Almalga Distillery and the Red Dog Saloon. The Almalga Distillery is a very small operation that makes a very nice gin using neutral grain spirits (NGS) purchased from a distillery in Anchorage. Almalga cuts the proof of the the NGS by about half, then re-distills it along with a botanical basket to make their gin. The Red Dog is an iconic saloon that dates back to the gold rush days. It serves good food and good drinks, and has a souvenir shop with a wide variety of Red Dog merchandise.
I'll publish Week 2 of our Cruising and Boozing trip soon. Stay tuned.